What is a "Chrismon tree"?

"Chrismon" is a combination of two words, "Christ," and "monogram." Monogram, of course, means initials, or symbols for a particular person. The Chrismon tree bears symbols or monograms about Jesus our Savior. The practice of having a "Chrismon Tree" began with a Lutheran pastor, Mr. George Pass, in 1940. He began making decorations for his own Christmas tree that were symbols about Jesus Christ, and the meaning of Christmas, instead of the usual pretty but meaningless shiny balls, Santa Clauses and reindeer. The practice soon caught on with other Christians and many churches, and today the Chrismon Tree is a common sight in many churches.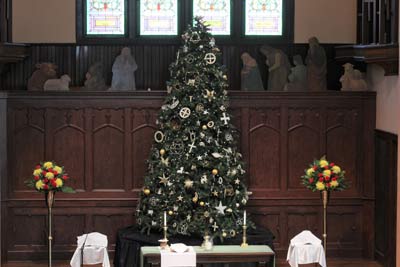 Our Mission Statement:
Asbury Memorial is a place where all people can develop their spirituality, use their talents, and grow in faith as we seek to love, serve, and celebrate God, each other, and our community.
Raise Funds for Asbury ... Use Good Search
Using this search box directly allocates all funds to Asbury