Our Next Production for Spring 2018
Neil Simon's "Plaza Suite"
The play is composed of three acts, each involving different characters but all set in Suite 719 of New York City's Plaza Hotel.
The Play will be directed by Ronnie Spilton (who directed "Our Town" in 2013 and "God's Favorite in 2012 at the Asbury Memorial Theatre). Production dates will be the first 2 weekends in March. We would like to thank all who audition for the play.

Our Cast for Plaza Suite:

Act 1
Karen Nash--Ann Robb
Sam Nash--Ed Wischmeyer
Bellhop--Patrick Prokop
Waiter--Donald Jarvis
Jean McCormack--Catherine Erhardt


Act 2
Jesse Kiplinger--Ray Ellis
Muriel Tate--Kelley Gray


Act 3
Norma Hubley--Cheri Hester
Roy Hubley--Les Taylor



Tickets are $15 ($12 for groups of 10 or more) and available at the door or online (available now)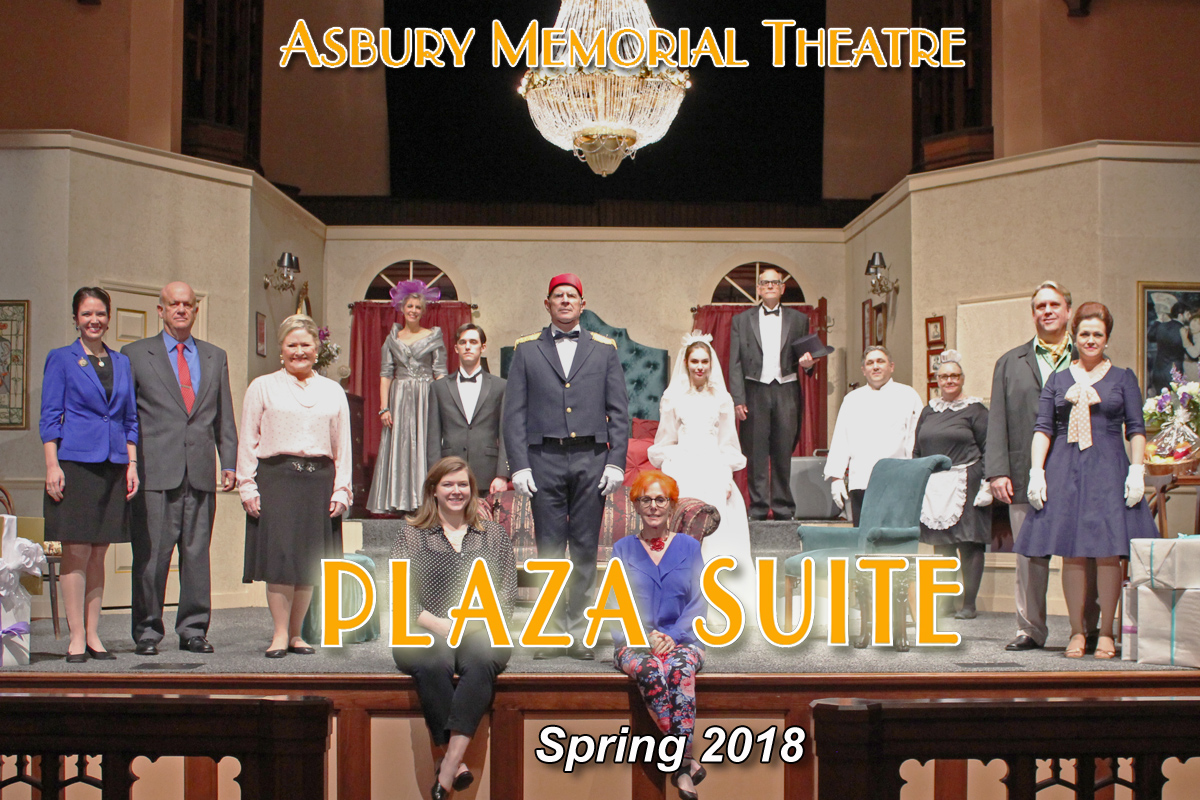 Links to Articles about Plaza Suite:
---
Our Most Recent Production
Asbury Memorial Theatre Company Board of Directors would like to thank everyone who attended our Spring 2017 production of "Steel Magnolias", thanks to you, it was a great success!! :-)...and a tremendous THANK YOU to the staff of Asbury Memorial United Methodist Church, Savannah, GA and all the volunteers who gave their time to parking, box office, concessions, ushering, sound, lights, props, costumes, set build & design, public relations/marketing, clean up, raffle tickets, door prizes and where ever needed as well as KUDOS/CONGRATULATIONS to the AMAZING cast Cheri Hester, Ellen McGraw, Frannie Williams, Ginger Miles, Toye Michele Hickman and Amie Michelle Schulz under the direction of the fabulous director Carmel Garvin Hearn and her dedicated staff Alex Hearn Swanger and Rachel Veazey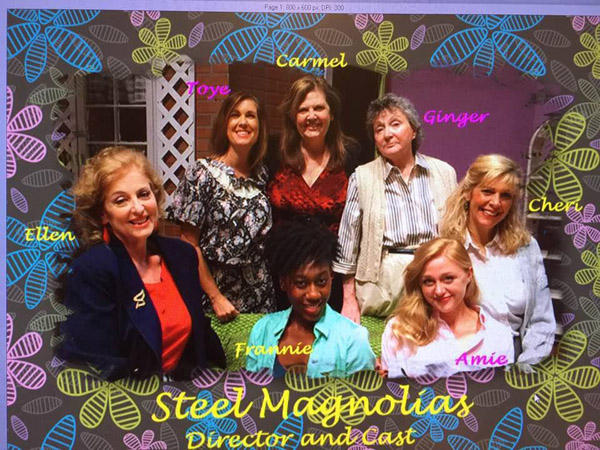 M'Lynn Eatenton - Cheri Hester
Shelby Eatenton Latcherie - Amie Shulz
Truvy Jones - Frannie Williams
Annelle Dupuy Desoto - Toye Hickman
Clairee Belcher - Ellen McGraw
Ouiser Boudreaux - Ginger Miles
Director: Carmel Garvin Hearn
Assistant to the Director: Alex Hearn Swanger


---
THEATRE PATRONS:
WOULD YOU LIKE TO BE AN ASBURY ANGEL?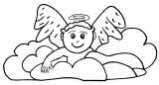 Without Patrons...and Lovers of the Arts...it would be very difficult to produce theatrical events.
So we've decided to call the patrons of our Theatre, "Angels." What better name for someone who supports the Arts at a church?
The names of our "Angels" will appear in the program under the following categories:
Archangels—$300 and above
Guardian Angels—$200 to $299
Seraphim—$100 to $199
Cherubim—$25 to $99
Checks can be made payable to Asbury Memorial Theatre and sent to: Asbury Memorial UMC, 1008 East Henry Street, Savannah, GA 31401
---
Asbury Memorial Theatre is a thriving community theater in Savannah, Georgia. Since 1994, Savannah audiences have delighted in the Theatre's plays, musicals, revues and light opera productions, which have earned several Best of Savannah awards.