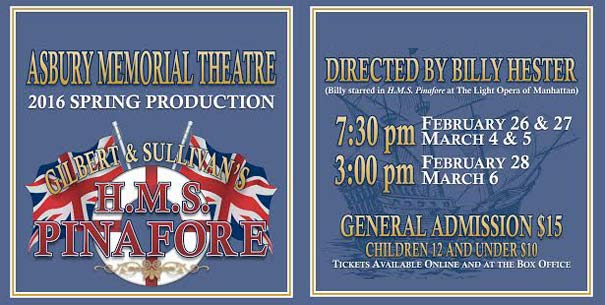 HMS Pinafore ......
The performance dates where:
February 26, 27, March 4, 5 at 7:30 p.m.
February 28 & March 6 at 3:00 p.m.



On deck for Asbury Memorial's theatre is Gilbert & Sullivan's operetta, HMS Pinafore!
The show will be directed by Rev. Billy Hester, who starred in Pinafore at The Light Opera of Manhattan in New York.
AMT's production will be performed February 26-28 & March 4-6.

For more information, contact Rev. Billy Hester Billy Hester.
Also, you can call 912-233-3595.

---
Tickets are $15 for adults and $10 Children 12 and Under


Click here to BUY TICKETS

---
or


RESERVE TICKETS in WILL CALL

---
---
THEATRE PATRONS:
WOULD YOU LIKE TO BE AN ASBURY ANGEL?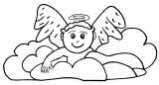 Without Patrons...and Lovers of the Arts...it would be very difficult to produce theatrical events.
So we've decided to call the patrons of our Theatre, "Angels." What better name for someone who supports the Arts at a church?
The names of our "Angels" will appear in the program under the following categories:
Archangels—$300 and above
Guardian Angels—$200 to $299
Seraphim—$100 to $199
Cherubim—$25 to $99
Checks can be made payable to Asbury Memorial Theatre and sent to: Asbury Memorial UMC, 1008 East Henry Street, Savannah, GA 31401
---